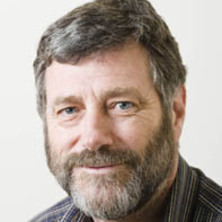 In 1980, a young Peter Sly began his first job in respiratory medicine at Melbourne's Royal Children's Hospital. There, his appetite for research began with the publication of his very first academic paper.
Thirty-six years later, Peter – now a Professor at The University of Queensland's Child Health Research Centre - has been awarded an Order of Australia (AO) for distinguished service to paediatric respiratory medicine research and education.
The internationally recognised respiratory medicine researcher said he was humbled and excited to receive the award after a career of many highlights, including the establishment of UQ's first ever World Health Organisation Collaborating Centre for Children's Health and the Environment in 2013.
"When I received the award, my first thought was – why me – what have I done that other people haven't?" Professor Sly said.
"I am so proud that research is receiving the attention it deserves and doubly proud that the people of Australia take pride in the work that I do."
The dedicated researcher said he was motivated by a strong desire to understand early disease in children and to develop strategies to prevent long-term health problems.
"While it is an honour and a privilege to receive an AO, it also reminds me that my job is far from complete," he said.
"In my role as Director of the Collaborating Centre for Children's Health and the Environment, we're working hard with other collaborating centres and organisations worldwide to study the health of children and to determine how environmental toxins might contribute to conditions such as autism and obesity.
"Low dose chemicals in the environment have been shown to cause long-term health problems and we're seeking to identify and develop preventative strategies for children at greatest risk.
"This is not just a problem in developing countries – even here in Australia we need to be aware that we are living with chemicals around us.
"We need to be careful, particularly in areas where children are living and playing – to protect them from exposures that might cause long term harm."
Professor Sly said he hoped his receipt of the AO would encourage young Australians to pursue a career in research.
"It is nice to be recognised for the contribution I've made to paediatric respiratory medicine over the last few decades and hope that it will encourage other young clinicians to consider a research career."
Contact: Kate Gadenne, Snr Communications and Marketing Officer, Faculty of Medicine and Biomedical Sciences, m: 0438 727 895, e:k.gadenne@uq.edu.au