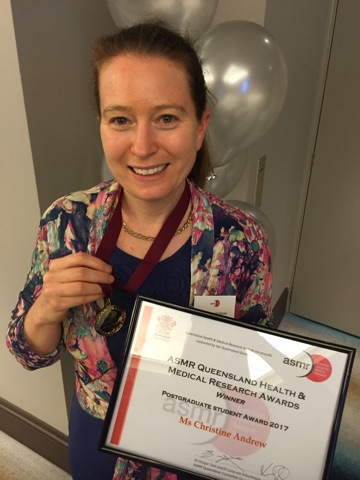 University of Queensland PhD student Christine Andrews has been recognised for her contributions to health research at the Australian Society for Medical Research's Queensland awards.
Ms Andrews, in her final year of study at UQ's Child Health Research Centre, was presented with ASMR's Postgraduate Student Researcher Award.
Her research in the Children's Burns and Trauma Research Group focuses on improving data used to define standards used for burns and scalds.
"Globally, scalds are the most commonly treated paediatric burn injury," Ms Andrews said.
"However, most people are unaware that data published in the 1940s used to guide international burn prevention standards is inaccurate and needs re-evaluating."
Ms Andrews' research involved developing experimental studies to investigate the conditions that cause a severe burn.
Conditions examined included the temperature of the water and the duration of exposure, in order to build an evidence-based injury prediction model.
Ms Andrews is hopeful that her research will be able to inform medicolegal opinions and provide a framework for future scald prevention strategies, and will be presenting her findings at international conferences later in the year.
Ms Andrews said the award came as a surprise, but a very welcome one.
"It wasn't until after I'd won the award that I realised just how prestigious it was," she said.
"It's amazing to get this kind of recognition, particularly when you spend so much time working in the lab."