Iconic children's characters the Teletubbies might not be what you'd expect to find in a medical  thesis, but they've proven to be a winning ingredient for PhD student Cody Frear, who has taken out this year's University of Queensland 3MT competition.
The fourth-year MD-PhD candidate won the prestigious competition by using the Teletubbies vacuum cleaner, Noo-Noo, to convey a new medical treatment in less than 3 minutes.
Mr Frear's PhD focuses on using a Noo-Noo like vacuum to treat burns in children.  
"It's called Negative Pressure Wound Therapy and works by applying an evenly-distributed vacuum across the area of a burn," said Mr Frear.
"This is believed to improve healing by removing rogue immune cells from the injured area, reducing swelling around the burn, and directly stimulating the growth of new skin cells and blood vessels."
Mr Frear said he was honoured to win the finals against such high-calibre students from across the University.
"It was quite daunting being on stage alongside such an incredible field of competitors," he said.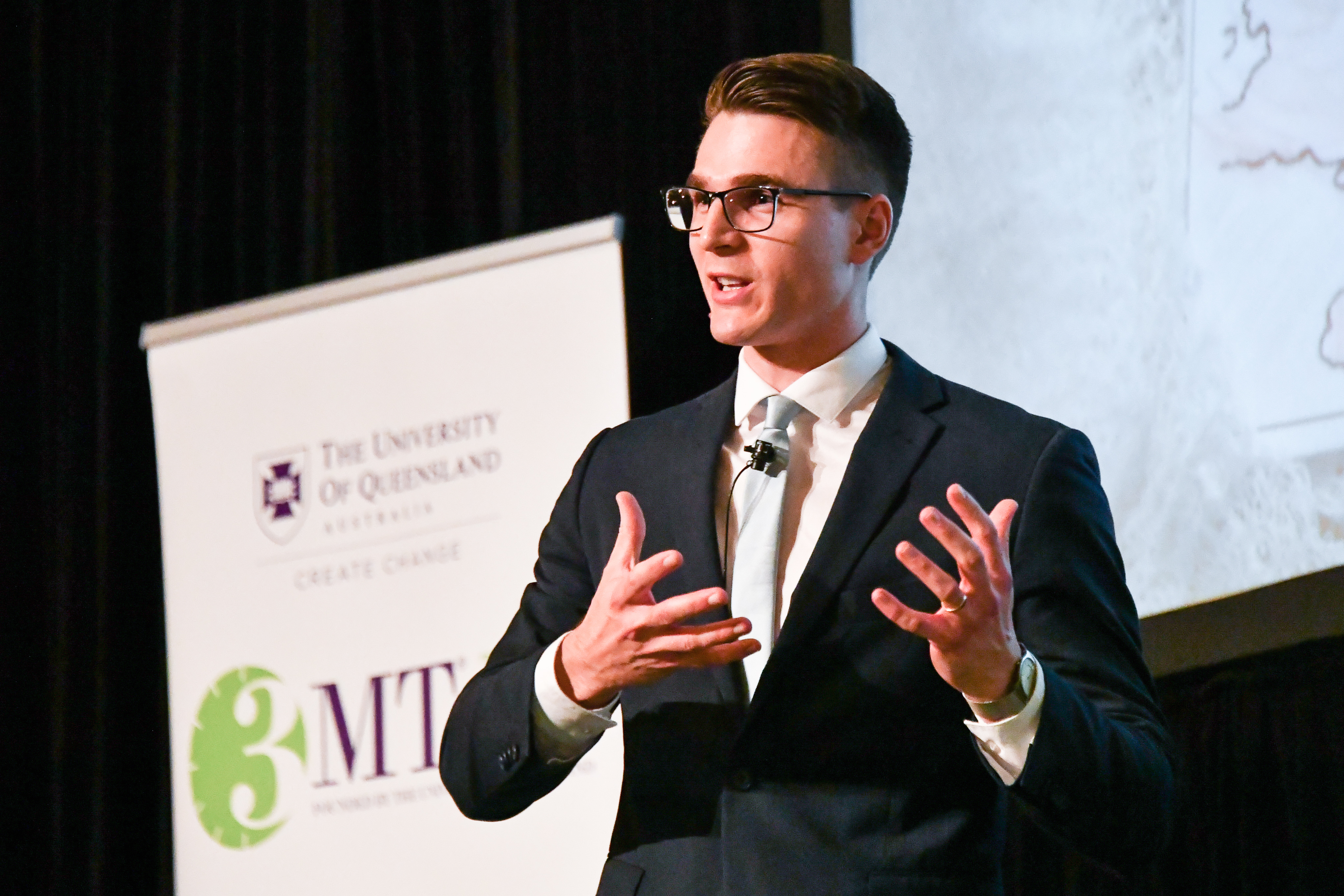 "I've also never presented to so many people before, with hundreds of guests in the room and over 200 people watching via a livestream. Still, I was thrilled to be representing the Faculty of Medicine and to have the opportunity to share my work with such a large audience."
It was his time on hospital wards that gave Mr Frear insight into how children can perceive their burn injuries and what inspired his 3MT presentation.
One young girl, Ellie, impressed him with her resilience after sustaining a burn from a spilled pan of hot oil.
"While undergoing treatment for her burns, Ellie would re-enact a scene from the Teletubbies where the vacuum cleaner 'Noo-Noo' would swoop in and save the day by cleaning up an ever-growing mound of custard," he said.
The 3MT competition cultivates students' academic, presentation and research communication skills.
Presenting in a 3MT competition increases their capacity to explain their research in three minutes, in a language appropriate to a non-specialist audience.
Mr Frear believed it was initiatives like this that helped bridge the gap between science and the public.
"One of the great things about doing a PhD is that you have the freedom to explore a highly-specialised and focussed project," he said.
"You get to immerse yourself in the literature and go down previously unknown avenues, but one of the caveats is that it isolates you from other fields and builds a silo around you," he said.
"3MT opens up that silo and allows you to share your work with an audience outside your field. It's also an opportunity to hear about the incredible research happening across the University."
Mr Frear will go on to represent UQ at the Asia-Pacific finals held in October.  
Watch Cody's 3MT presentation: Negative Pressure Wound Therapy in Paediatric Burns: No-No or Noo-Noo